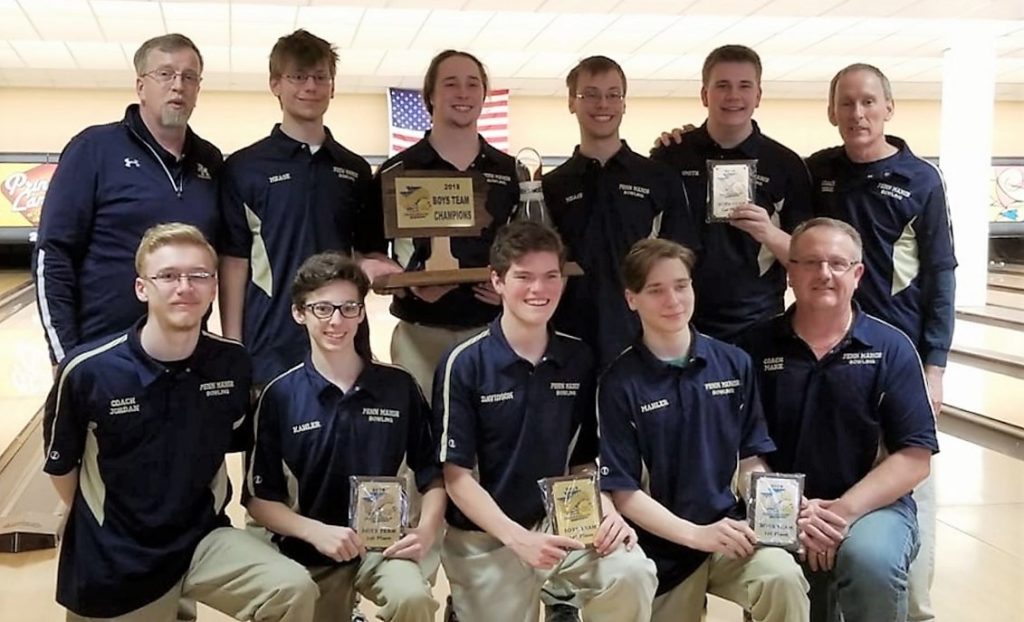 The Penn Manor boys' bowling team has made history by winning its third straight state title!
The Comets won the championship March 17 by defeating Wilson, 2-1, in the state finals at Princess Lanes in Pittsburgh. Bowler Dan Mease also competed in the individual tournament, placing 10th in the state.
Last year, the Penn Manor boys beat Ephrata, 2-0, to earn the PIAA Bowling Championship title. In 2016, the team topped Conrad Weiser, 2-0, for the state crown.
During the qualifying round this year, the Comets — Dan Mease, Michael Morris, Gavin Davidson, Nick Mease, Jordan Kahler, Jimmy Mahler and Mark Smith — finished second to Wilson.
In the semifinals, Penn Manor lost its first game to Franklin Regional, but squeaked by in the second, 206-205, to avoid elimination by a single pin. The Comets easily won the third game to set up a rematch with Wilson for the title.
The Comets won the first game, 209-173, but Wilson edged Penn Manor, 206-196, in the second. Penn Manor came roaring back, however, winning the decisive third game, 234-174.
"This team has a lot of heart," said Coach Chris Vital. "They were not going to lose this. I've never seen that kind of drive before."
Vital said this year's title win was probably the most gratifying of the three because of how the team fought back. "At least three or four times, I thought we were going home, and so did everyone else, but they kept on fighting."
In addition to Vital, the Comets were coached this year by Jordan Wakefield, Mark Smith and Alan Wakefield.
Penn Manor now qualifies to participate in the U.S. High School Bowling National Championship this summer.
Congratulations to team members and coaches for establishing a bowling dynasty at Penn Manor!